Long gone are the days of buying a throw away camera, taking pictures, and then heading to a shop to have them developed. Now, within a couple of seconds you can take a picture and see the instant results. And if that wasn't enough, along came the drone. With the power of flight phototgraphers and amateurs alike began seeing the world from a brand new perspective - and in the process seeing some totally unexpected things. These photos captured the attention of millions who couldn't believe what they were seeing, and sent shivers down everyone's spines.
1. No Dream Is Too High
This drone image can get your heart racing simply by looking at it! Well, imagine what it must feel like to take a walk along this path. One word of advice, don't look down! With a temple waiting for people to arrive at its summit, the Tianmen Mountain is a staggering 5,000 feet high and can be found in China's Hunan Province.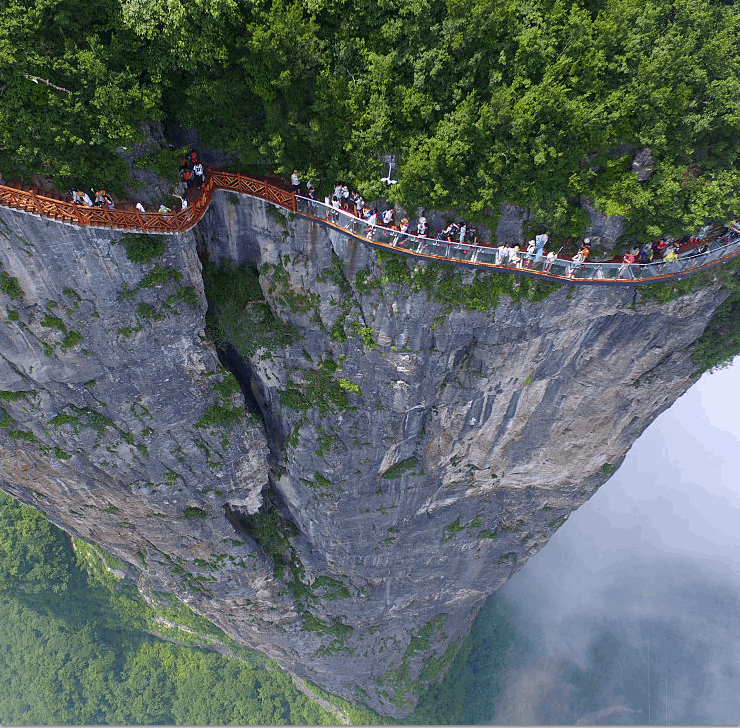 Originally built using wooden planks the pieces have since been replaced with glass. That means that every so often people can get a very clear and terrifying look of that giant drop. For anyone not wanting to risk a loose plank under their feet, there's also the option to take a cable car.
2. Take A Swim On The Wild Side
There are plenty of people who are happy to risk their lives while taking a walk on the wild side, but floating among an ocean full of sharks is a whole other level. The ocean is a fascinating place that's for sure, but no one can ever predict how a shark is going to act.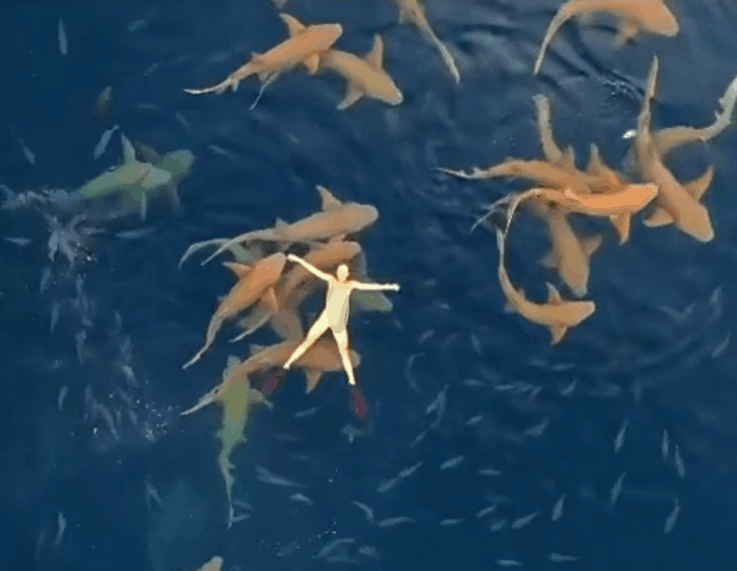 Basking away in her starfish float position, this woman does not appear to be too distressed, but rather relaxing and enjoying the sun. Rumor has it, the women had no idea so many sharks had swarmed to her, and getting away was a rather tense situation.
3. Don't Look Up From That Book
What is it with people being so comfortable with sharks, didn't anyone watch the cult classic movie, Jaws? Because that was enough to stop anyone from going into the water. Named due to their unique features, the hammerhead shark is known for moving around the ocean in mass groups of around one hundred creatures.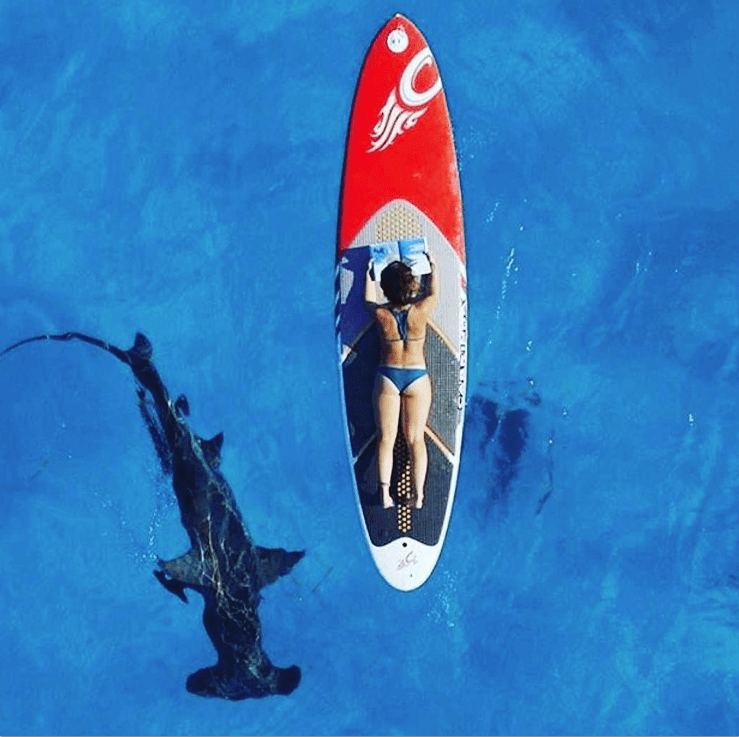 Taking some alone time out on the ocean to relax and read her book, this woman was joined by a shark that was the same size as her board! And who knows how many others are on their way.
4. Not For The Faint Hearted
No matter how many ropes are attached to you, no one can ever be sure exactly how a climb like this one is going to go. Heading out for a lonesome climb, this adrenaline junkie found himself stuck in a rather unfortunate situation.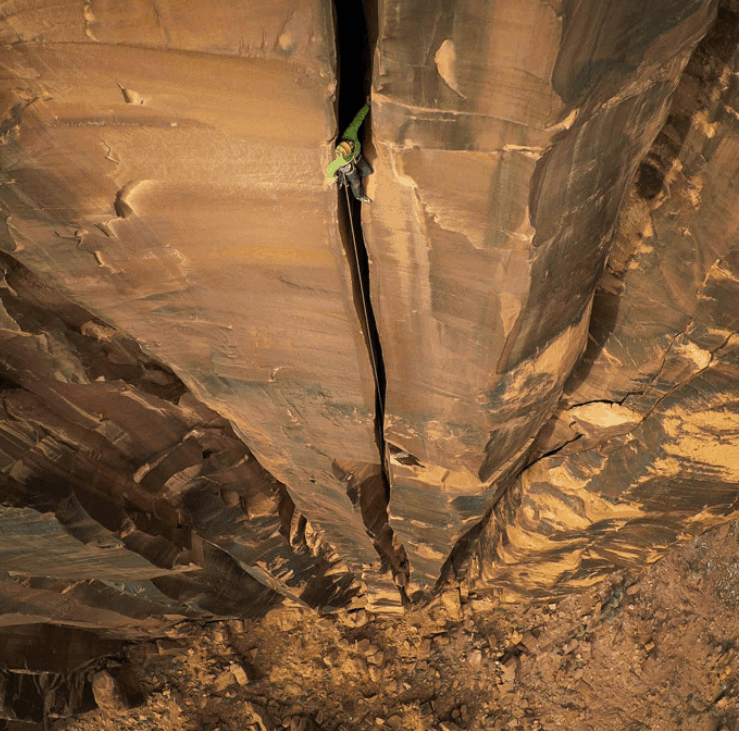 Making it all the way up to this point, he noticed there were loose rocks above his head, and let's face it, there's no quick way down. Found in Utah, this heart-pumping cliff-face is super popular with professional climbers.
5. The Missing Man
Back in the late '90s, there was a deeply sad story about a man, who was in his forties, that went missing from Florida. It seemed as if he had vanished from thin air after heading out to work. With people shocked and scared, police were under pressure to break the case.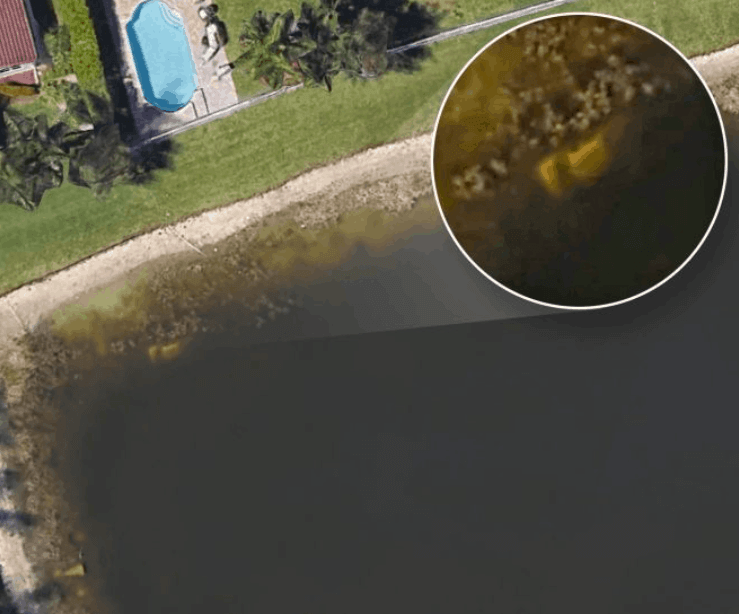 The unsolved mystery continued for 22 years! Until one day, this drone captured an image of a lake. Taking a closer look, the cameraman discovered the sunken car of the missing man. Unfortunately due to the amount of time had passed no one could work out how the accident ever happened.
6. For The Rich And The Famous
Well if this isn't luxury then we don't know what is. 1,000 feet high, the rich and famous can play a game of tennis on this helipad. With amazing views of Dubai, the tennis court can be found on the top of the Burj al Arab.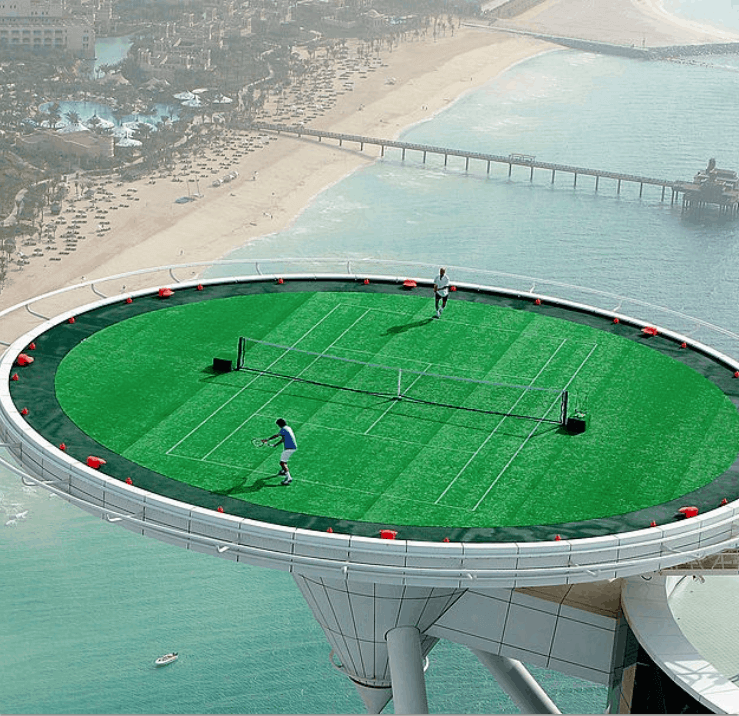 It's great for anyone playing but it is definitely confusing for anyone walking underneath the building when a tennis ball lands on their head. Ouch!
7. This Photo Is The Result Of War
Not something to get your adrenaline going, this sad drone image shows the devastation of war in the Middle East. Plague with war for way too long, this image was captured above a city in Syria.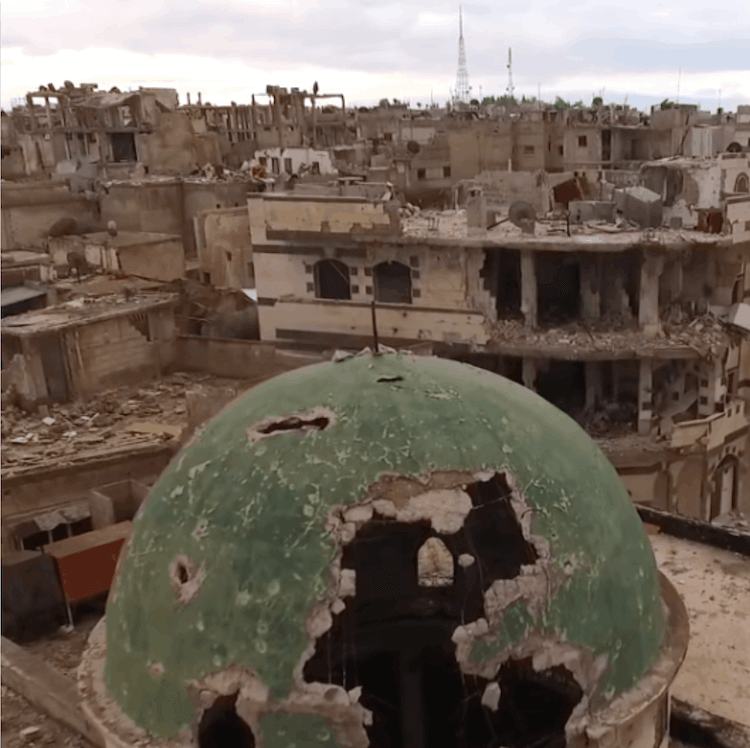 People's homes torn apart, some even had to return to the rubble. Once a thriving city full of people, sadly it is no more. There are broken buildings as far as the eye can see.
8. The City Of Pripyat
Everyone at some point in their lives has heard about the disastrous nuclear power plant explosion in Chernobyl. Whether it was learning about it in history class or watching the hit TV show, it was an event that rocked the world.
In 1986, the city of Pripyat was evacuated, being told to leave everything behind and get out as quickly as possible. The deserted city is still there, almost looking as if it is waiting for people to return. 
9. From A View That Not Even Birds Get
Thanks to drones, we are now able to capture images of things people could have never of dreamed. From sky-high buildings and mountains to flying cameras over an active volcano and more. With the area way too deadly for a person to visit, photography has reached new heights - literally.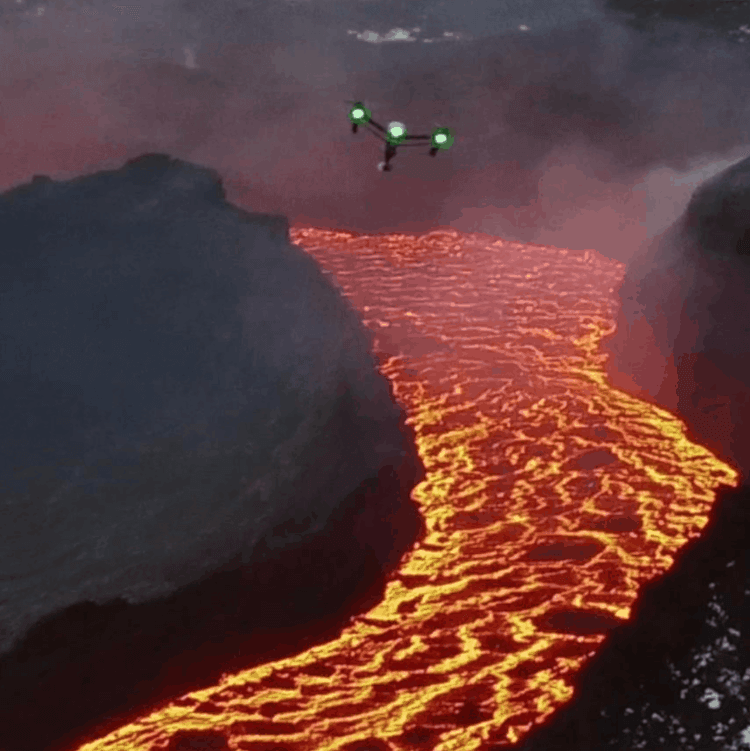 Flying above a flowing river of lava in Iceland, this drone gives us an insight into what happens all the way on top of the volcano after its untimely eruption.
10. Far Above The Clouds
An image captured high above the clouds in one of Spain's foggy city's, you can see the stunning landmark that is The Temple Expiatori del Sagrat Cor in Barcelona.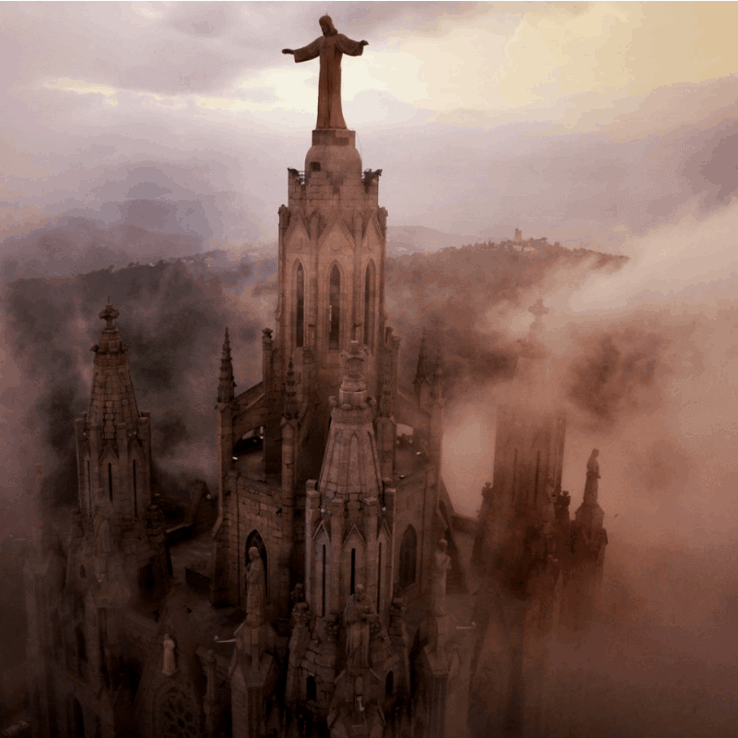 Standing high and strong, this statue of a god commands attention as he stands on top of the church. The image is absolutely beautiful and really makes you see the world in a different way. 
11. Majestic Mammals Above The Sahara
Elephants are known for being one of the most majestic and intelligent mammals to walk this earth. The animal's souls can be so clearly seen through their eyes and they group together as humans do when it comes to their families.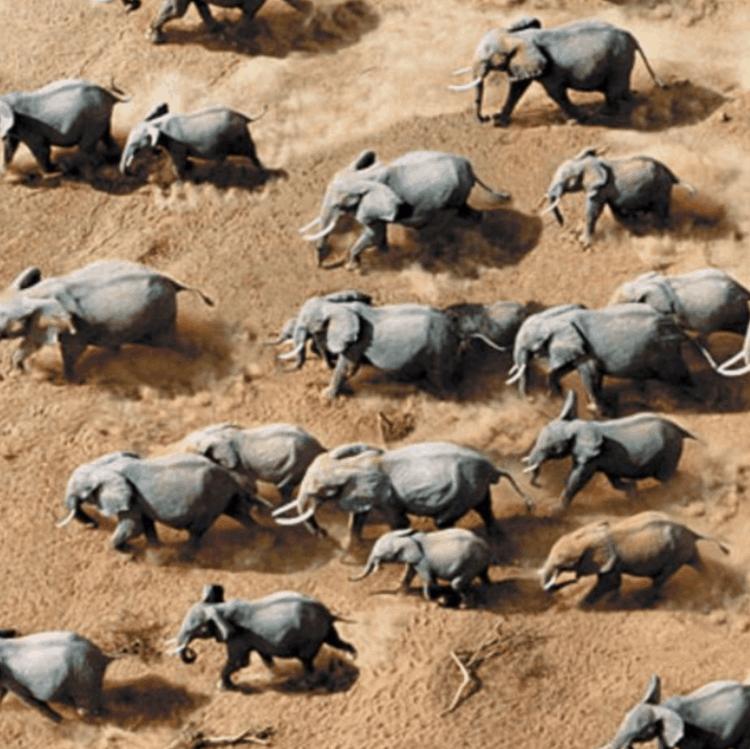 Always protecting the youngest elephant, you can see this running heard of elephants make sure the little ones are in the middle, keeping them away from harm.
12. Looks Like An Astronaut On Another Planet
Looking like something out of a science fiction movie, this image is truly amazing. Is that a spaceman on another planet about to be covered in lava? Actually, no it's not!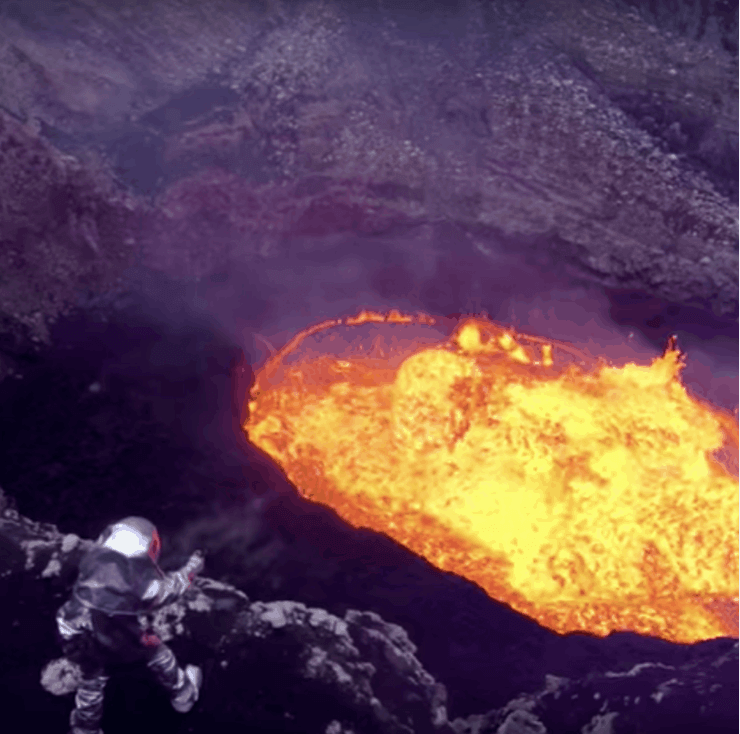 ​​Studying a volcano, this scientist is protected from the heat by his silver suit. Having to get as close as possible, the scientist takes extractions from the volcano to take back to the lab. Now that's a risky job.
13. Watch Your Back
While taking a walk to find a piece of land for them to graze upon, these elephants found themselves in a very unlucky situation. Not only is the land clear from any luscious green food for the mammals, but a pack of lions noticed them in the distance. 
Also out looking for their next meal, the lions circle the small heard of elephants. As you can see, they turn their backs to each other and create a circle, so they have a clear view of the lion's from all angles.
14. A Stunning Moment Of Beauty
This beautiful picture owes itself completely to the invention of drones. Creating this amazing outdoor piece of art by using paints that are biodegradable, artist Saype lies down on top of his masterpiece.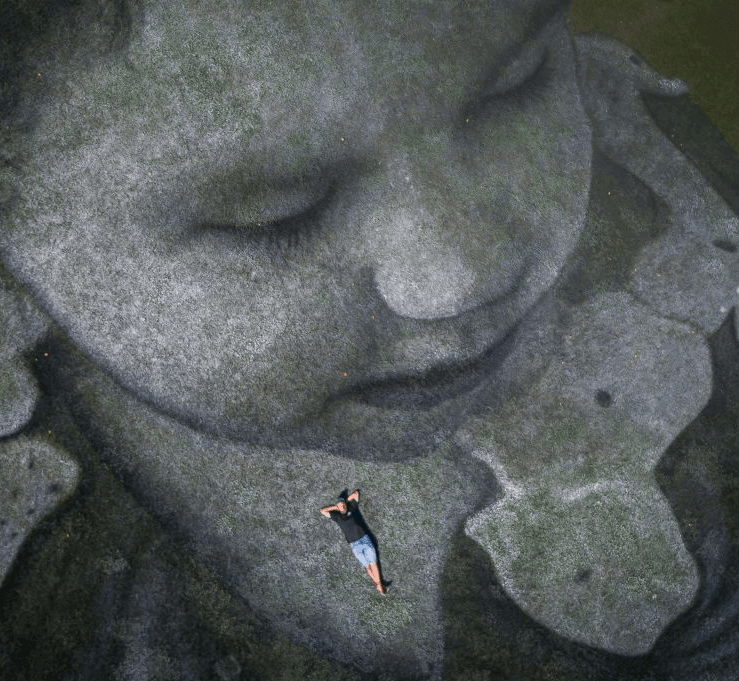 The blissful image shows a giant painting of a young girl pushing a piece of paper out onto a lake close to her home. The painting was said to be inspired by a moment of beauty the artist captured while at his lake house.
15. The Chase Is On
Gazelle's are known for their skittish behavior, having to constantly escape from those animals who see them as prey. It would be practically impossible to ever get this close to the animal without a drone. Being on a high alert all the time is rather draining and these poor animals rarely get a break.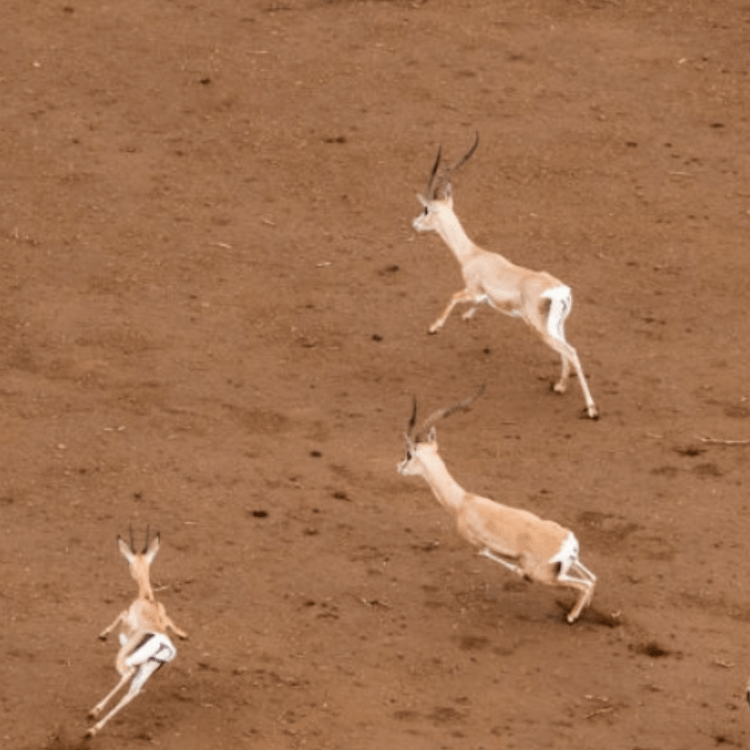 Being spooked by the drone, the Gazelle's began to run, but thanks to the flying technology the drone was able to make chase and follow them for a few miles.
16. The Red River
Found in Cusco, Peru this creepy-looking red river looks like something out of a horror movie but don't worry, there is nothing sinister about it. A beautiful piece of creation by mother nature herself, this Red River gets its color from the mineral deposits found in the clay bed.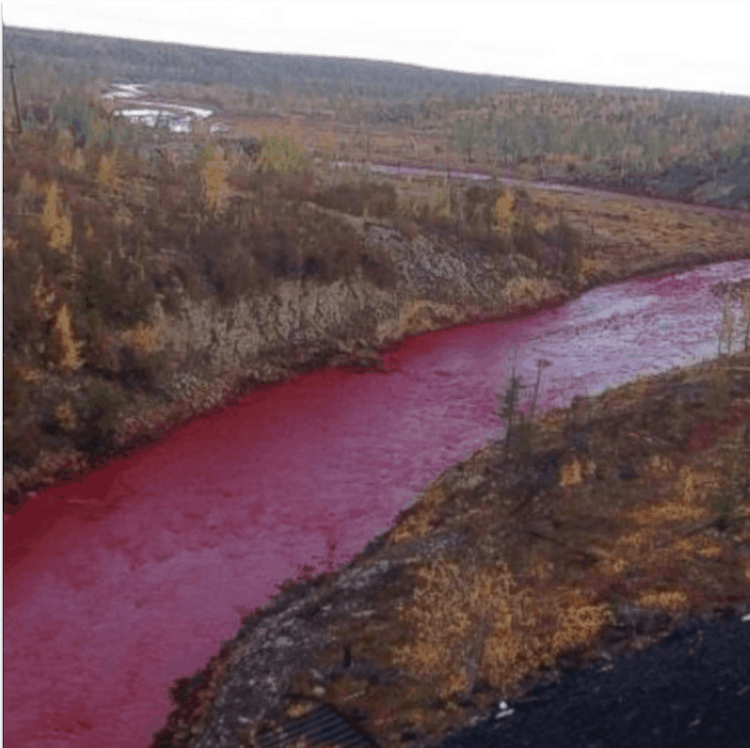 Due to erosion, the clay mixing with the water created the red color. Flowing through rolling hills of green, the river really looks like something from another planet.
17. A Free Meal
This giant mammal is one of the biggest in the world and is said to have been in our oceans for millions of years. Sadly for this
humpback whale
's time on earth is over and its corpse has floated to the surface of the water.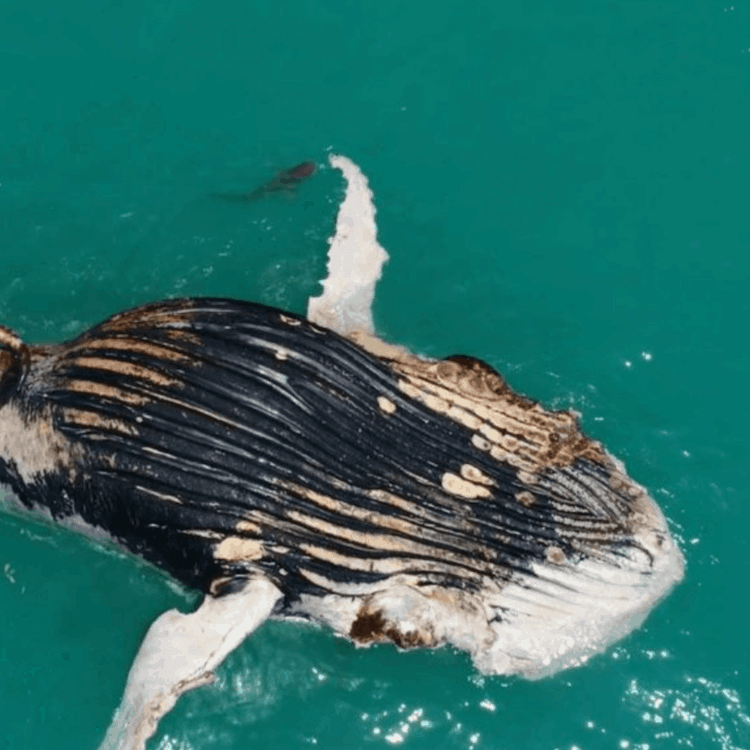 Taking advantage of an easy meal, sharks begin to tuck into the dead whale. This really is nature at its finest, we can only hope the whale died of natural causes.
18. Are You A Believer?
Crop Circles have been popping up in movies for as long as we can remember, but the question is, are you a believer? The first-ever crop circles were reported back in 1860 with most turning a blind eye and not wanted to deal with the possibilities of what they could be.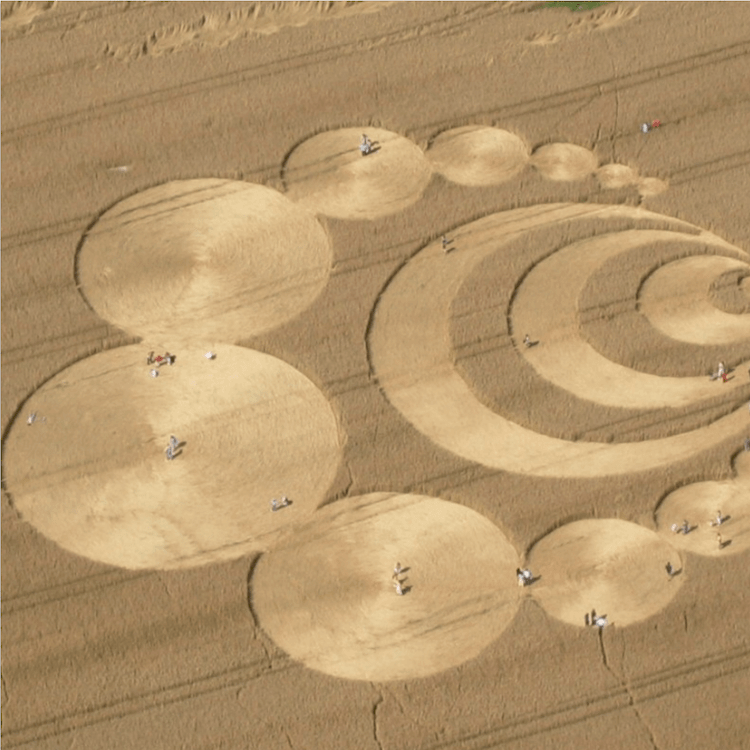 Linked to UFOs and aliens, are these weird circles proof that alien life exists? Or are they just pranks? Nobody knows, except those top-secret forces working over at Area 51 of course.
19. That's One Giant Explosion
Gas explosions are some of the most dangerous and the results are always devastating. After an unknown gas leak was left, it wasn't long until the house exploded! Luckily, no one was in the house at the time.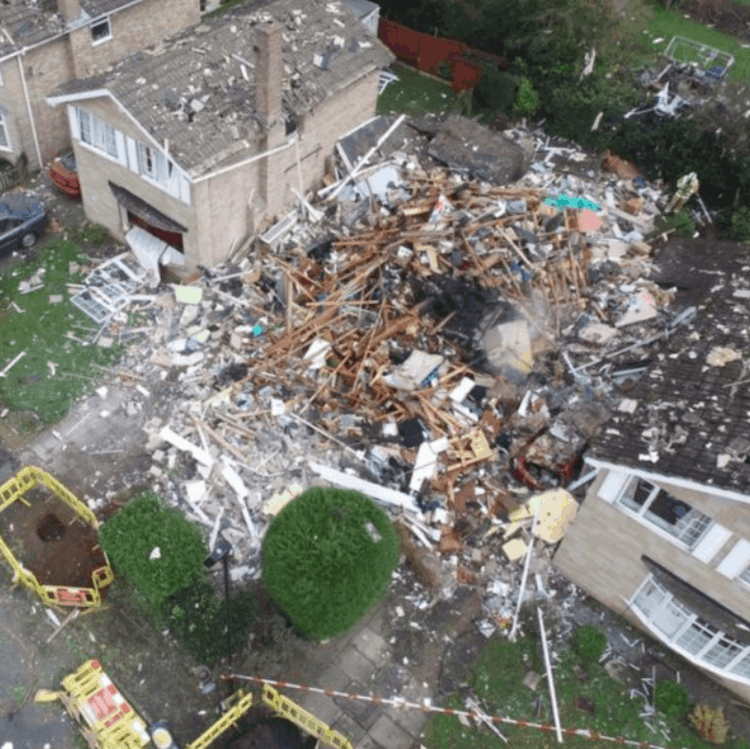 Pieces of the house were found for miles and the home was completely toppled with everything inside. Luckily, the garage kept their neighbor safe. What a lucky escape.
20. A Different View
A drone caught the amazing Sagrat Cor Church, found in Barcelona, Spain from a completely new angle. The church is located on the top of a hill and from the level, the view behind can be seen for miles.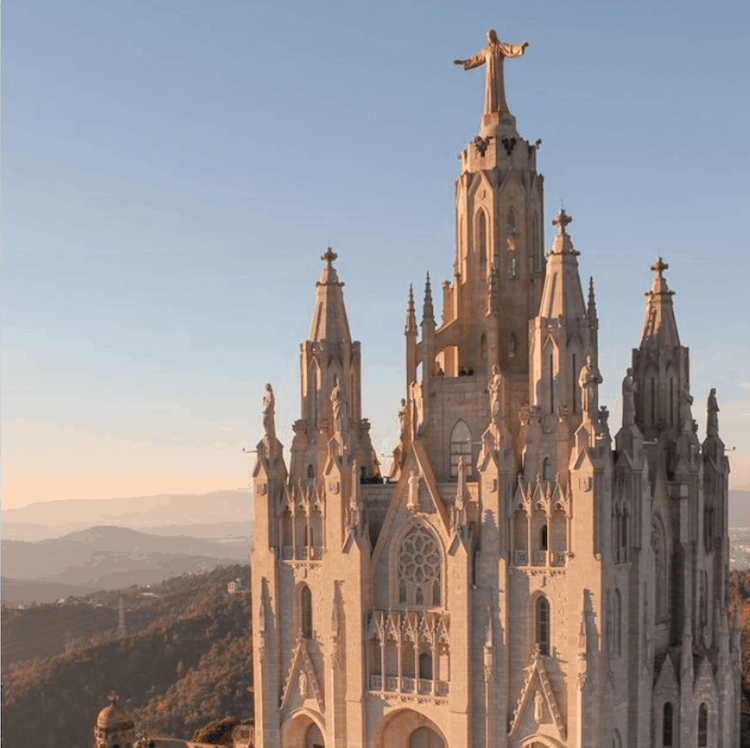 The Roman Catholic Church, also known as the Temple of the Sacred Heart of Jesus first opened in 1961. The masterpiece was started by architect Enric Sagnier and was later completed by his son. 
21. Catching An Intimate Moment
Flying over the happy couple, one drone managed to catch a marriage proposal. On the shoreline of this blissful, romantic beach, this man got down on one knee and asked for his girlfriend's hand in marriage.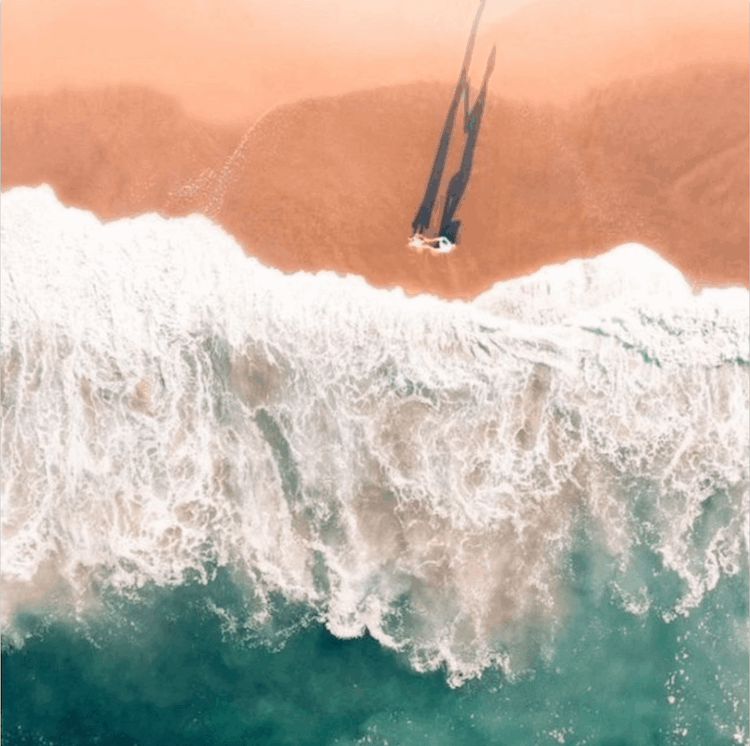 Even more special than capturing this special moment, the sunset created shadows of the love birds. We just hope the couple was able to get their hands on this perfect picture. 
22. Living On The Edge
Everyone feels a special way about their home and some can happily stay in one place their whole lives. This house balances on the very edge of a cliff in Georgia and is the home of a monk.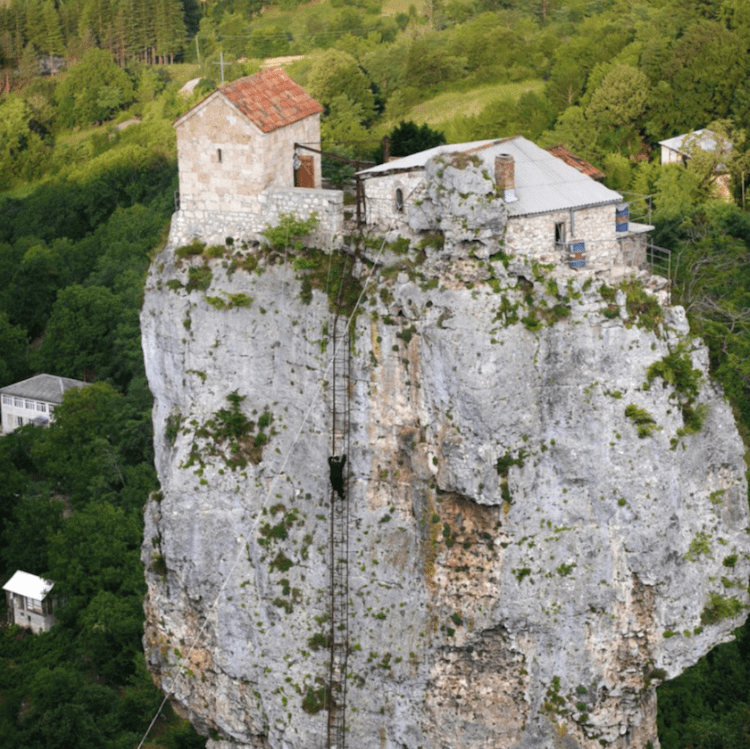 140 feet high, the church is the highest point of the Katskhi Pillar and sits in a small village. The get to and from the building, there is a long ladder that any visitors have to climb. Some people will do anything for some peace and quiet.
23. The Star Fort
Being able to see this utterly beautiful site with a birds-eye view is very special. Found in a quiet and quaint town in east Holland, the image shows a Dutch fort from the past.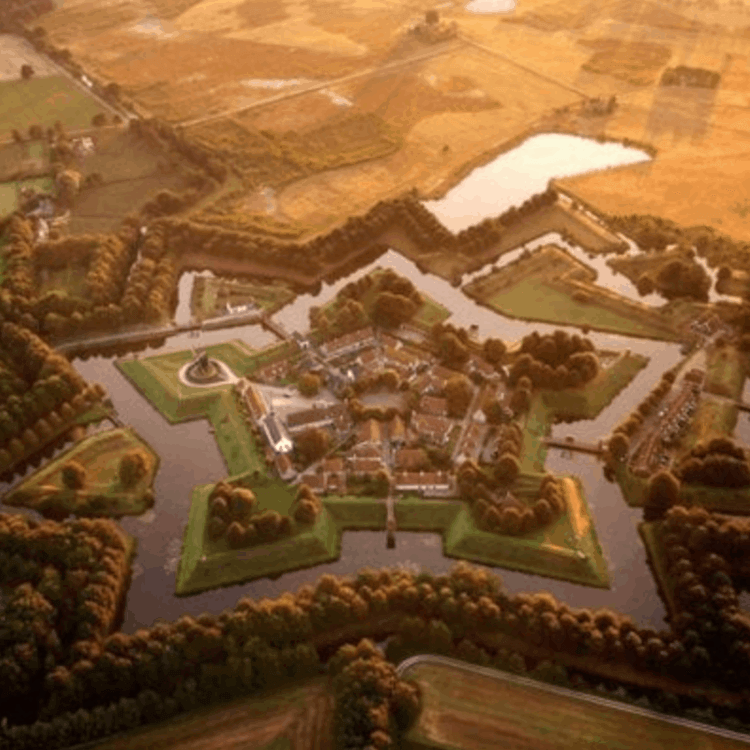 Shaped in a star, the fort was turned into a museum. At this view, you can really appreciate all the effort that went into the landscaping and building. 
24. What Do You See?
This one certainly makes you look twice and can almost be seen as an optical illusion. So, what do you see here? Did you guess it right? Is that really a boat stranded on dry land?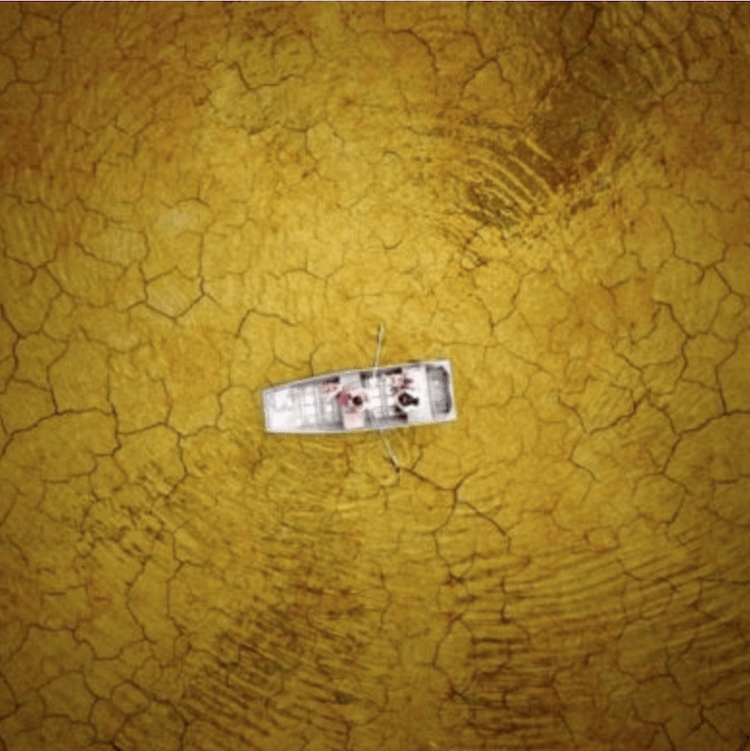 Well, no it is not! This is the crystal clear Burke Lake found in Virginia. The ground is barren with no life at all, and makes for a great photo and apparently, picnic spot!
25. The Incredible Above Beauty Of South East Asia
South East Asia is one of the most beautiful places in the world to take pictures. With unique colors, plants, scenery, and more - the possibilities are endless. This woman was captured working out in the Mekong Delta River in Vietnam.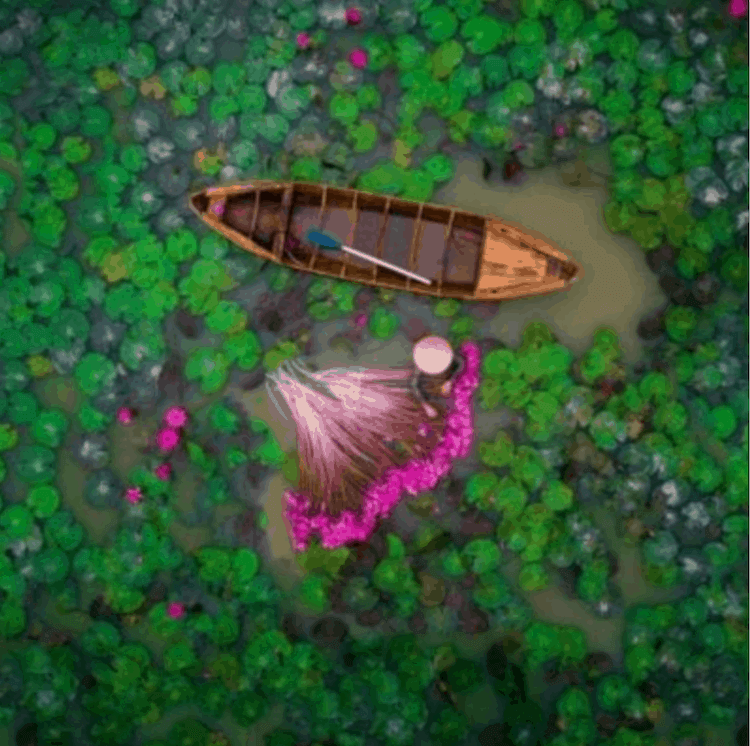 The image gained plenty of attention and actually came in second place in the International Drone Photography Contest, out of around 8,000 entries. Now that's an achievement.
26. Scaling The Building
Now a job for the faint-hearted, there are some people out there who spend their days scaling skyscrapers and cleaning the windows of gigantic buildings. Strapping in, the abseil down the building, stopping along the way.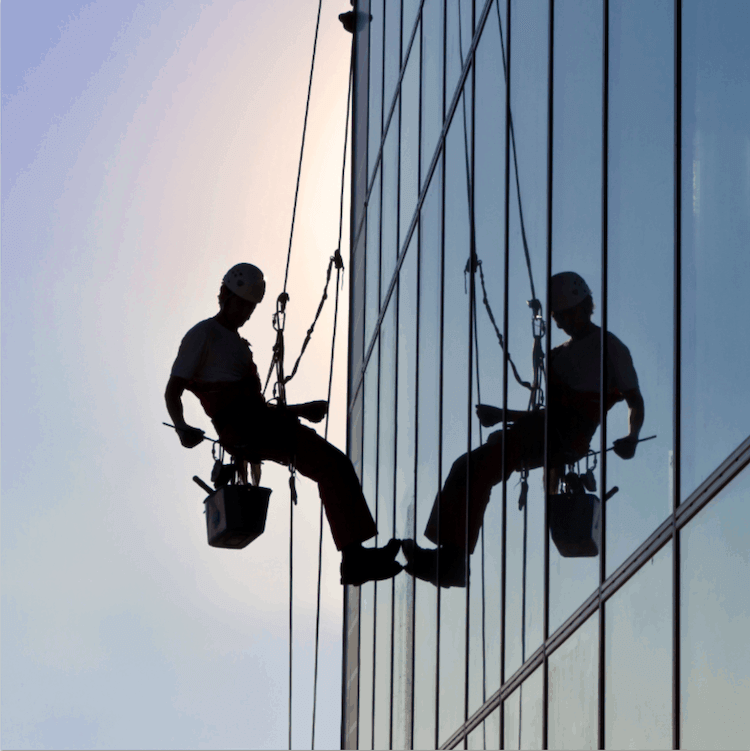 Captured in Moscow, you can see the beautiful colors of the sunset as well as the city's reflection in the glass. It may be a lonely job, but it's certainly exciting.
27. City Life Can Also Be Beautiful
Since drones have become a common thing to see flying high above us, some countries have introduced specific laws to stop people from using them. These laws were mostly bought in to stop any other countries from spying!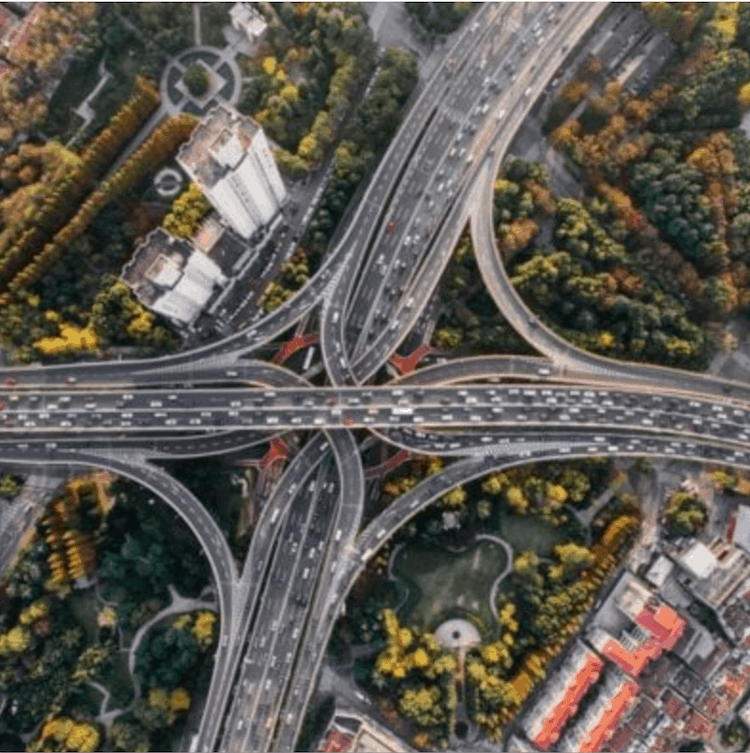 In busy cities, roads can intertwine like nature and this shot shows just how perfectly it can be done. Taken over the highway in Shanghai, China, we're not sure if any laws were broken here.
28. Flying Down The Road
Although this looks like a road making its way through a totally different planet, this image was captured in Arizona. Taking the drone and flying along the road can create this epic effect.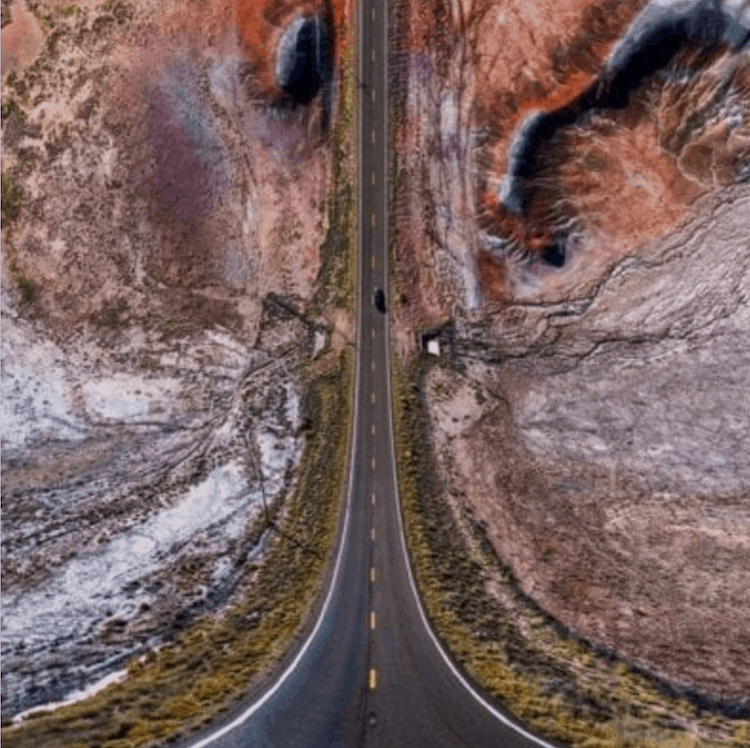 Cool right? This photographer has a great time driving around the US creating images of the roads like no one has ever seen before. Now that's a good life.
29. The Long And Winding Road
Taking us all the way back to the movie Twilight, this road weaves and winds throughout this ever-changing color of a forest. With reds, browns, and greens, the road is surrounded by amazing views.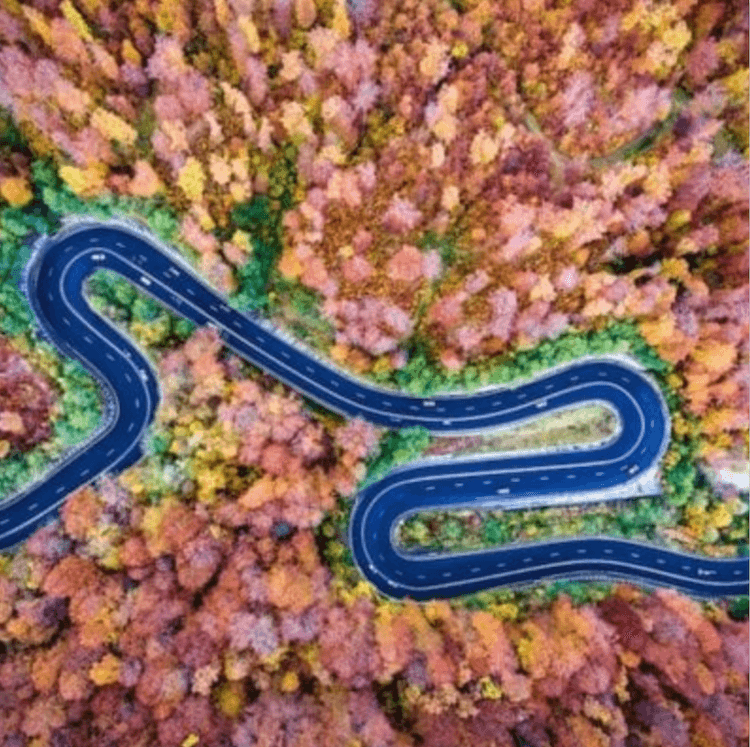 The road can be found in Romania, and this isn't the only one. There's plenty of stunning drives to take around the country and if you want to, you can even find camping spots in the woods.
30. An Italian Escape
The view is utterly idyllic. This quaint town is Santa Maddalena and can be found in Italy. With luscious green lands surrounded by mountains, this beautiful spot is stunning in every season.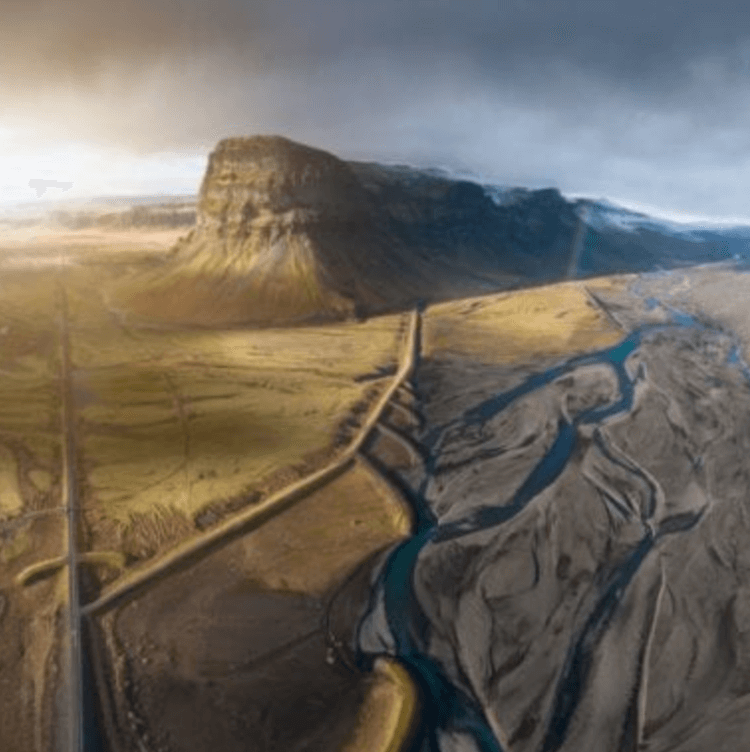 With a small population, everyone in the town knows each other and most families have lived there for years, following in their grandparents' footsteps. And we can certainly see why!
31. Duck This Way
Another vision of beauty, this image from above was taken in Vietnam. Basking in the sun and bathing their feathers, those white spots are indeed ducks! Many people in Asia farm ducks and keep them on vast areas of land.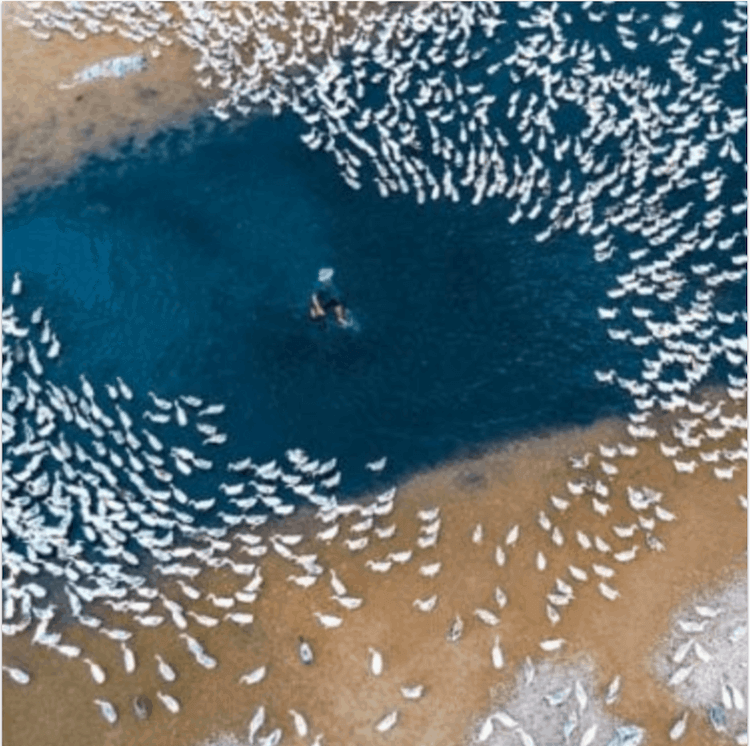 As this farmer was crossing over a shallow spot of water, the ducks separate and create a walk way for him. Within seconds, the ducks come back together making it almost impossible to see the water.
32. Desert Lines
What do you see first? The white lines or the amazing shadow markings? Taking in Saudi Arabia over the Red Dunes, photographer Abdullah Alnassar came across these camels.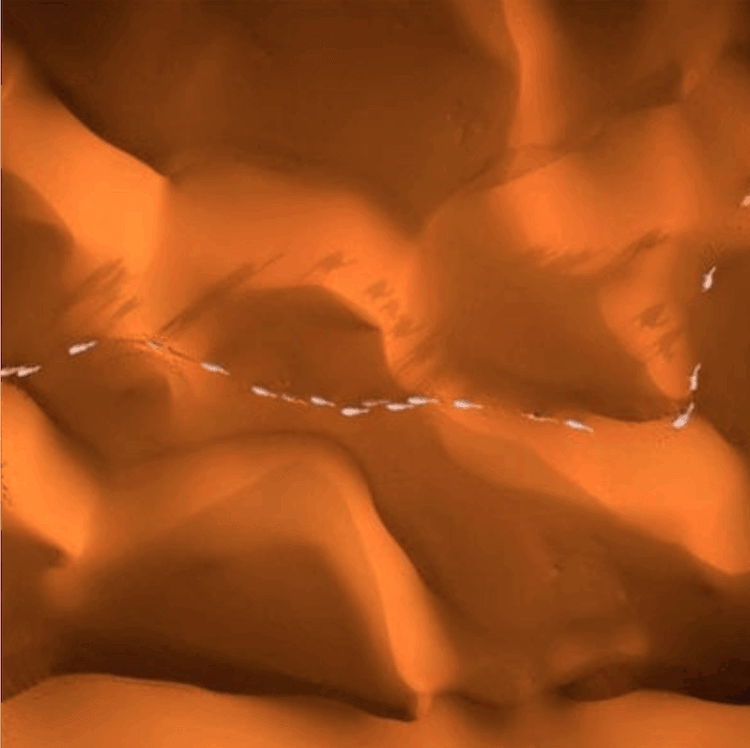 The camels were looking for a piece of flat dessert to settle and follow each other one by one. As the sun settles on the land, it creates these amazing camel shadows over the dunes.
33. Stepping Stones
The north pole is a place that very few people will visit in their lives, home to unique people and precious wildlife, the cold can only be tolerated by a few.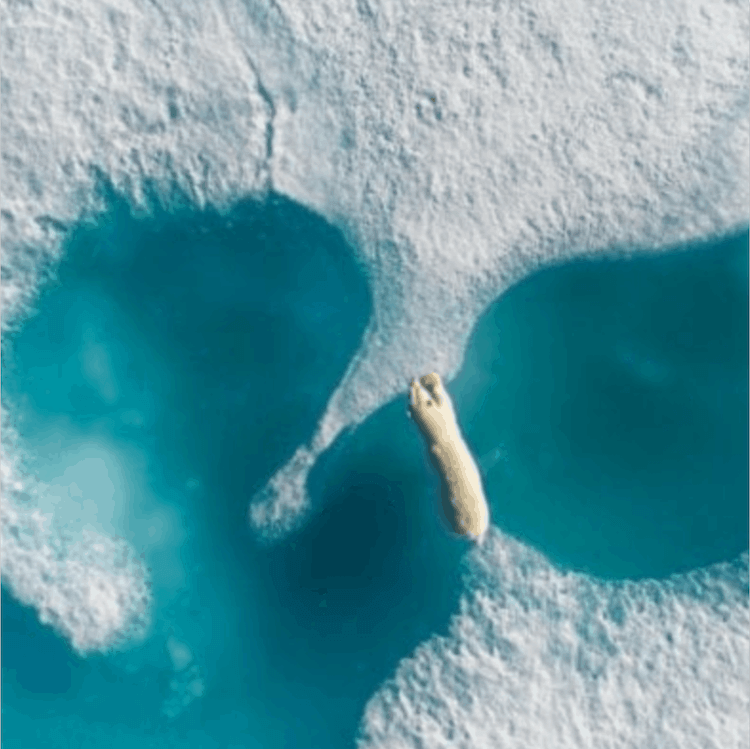 Moving from one piece of ice to another, this polar bear is reaching for his next resting place and trying to avoid the ice cold water. Thanks to the size of the drone, it is able to fly directly above the bear without scaring it.
34. Nature Always Wins
The earth has experienced many different centuries, and land that was once bustling with life has been left for nature to take over. This building was partly knocked down in a battle.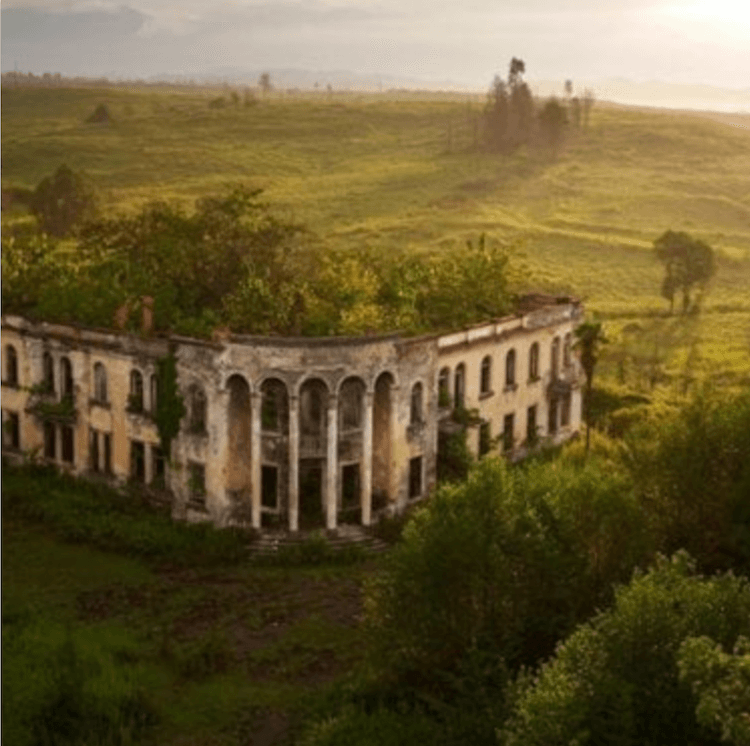 A front area of the building was left and after nature reclaimed the space, it created this stunning view. Surrounded by green as far as the eye can see, it really is breathtaking.
35. The Little House on the Bay
 As time moves on, the earth can often erode due to weather situations and that is exactly what happened here. Once connected to a small town close to the sea, this piece of land managed to move away from the rest.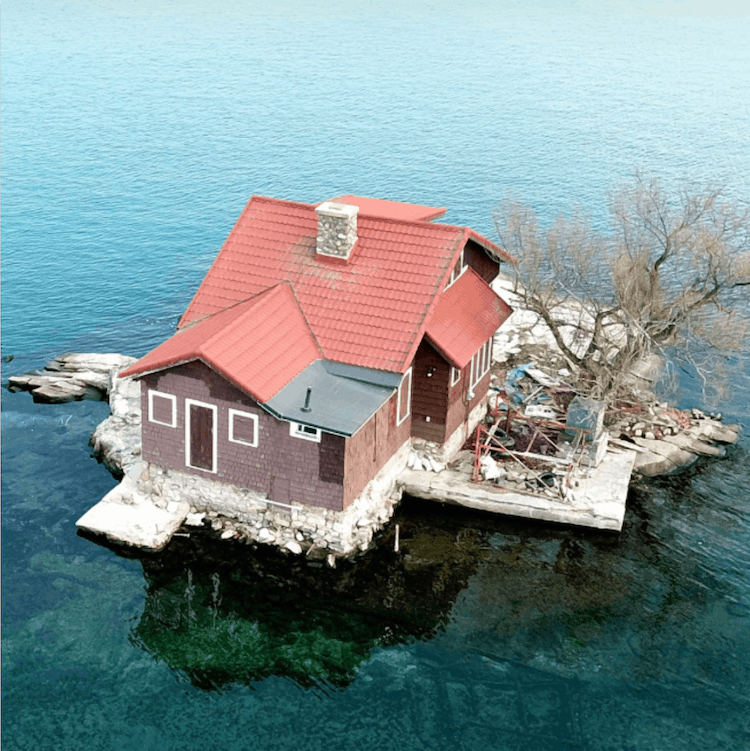 Floating between Canada and New York in Alexandria Bay, this house offers maximum privacy and those wanting to go can only reach the house by boat. It's not far from the shore, but it's still an effort.
36. Chasing Waterfalls
If there is ever a waterfall whilst on a trip, most people will head to see it. To bathe in the freshwater and of course get that perfect shot. Mardalsfossen in Norway is one of the tallest waterfalls in all of Europe.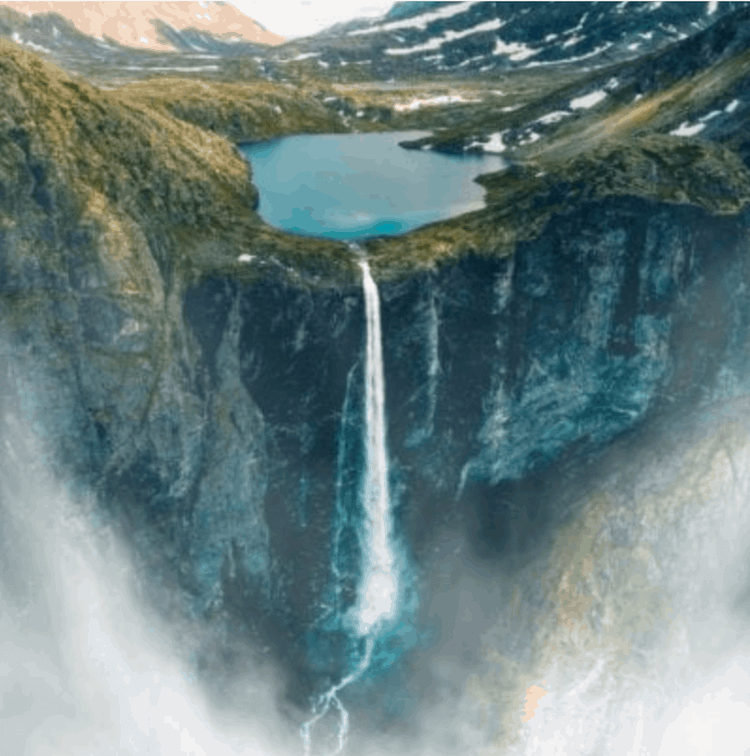 The waterfall drops around 1,200 feet and thanks to the wonders of nature, here the water falls into a misty bottom. The water is known for its icy temperature.